Employee Voices: BMO Volunteer Day in Montreal
It is 8:30 AM. my colleague and I are on our way to the Montreal Metro Papineau station. We are sharing with each other why we initially chose this particular volunteer activity. I share with her that it would be cool to understand how donated clothes are repurposed for people in need. I admit that I had little understanding of the organization that we are going to help prior to reading about Société de Saint-Vincent de Paul de Montréal (SSVP).
SSVP is an organization that was established in 1848 in Montreal. It has 80 help centres, 28 stores and more than 1400 volunteers. Its mission is to provide assistance to people in difficult position regardless of language, culture or religion. It provides assistance in the form of food assistance, stay-in-school/social integration programs and access to basic material necessities. Through these programs, SSVP provides a listening ear, a helping hand and companionship in order to create meaningful relationship. Ultimately, SSVP restores dignity, self-reliance and community bonding to the people they reach.
As we walk towards the SSVP entrance for volunteers, my colleague and I pass by a woman. Focused on arriving on time, I did not stop to wonder why she was standing in the middle of the sidewalk. Upon stepping into the designated area, we are greeted by other volunteers from BMO. It feels great to see a wave of eager smiles ready to help our community. As more BMO volunteers trickle in, we soon pack the small room and our host appears to greet us. Linda, a staff member at SSVP, is a warm person. As she speaks to welcome us and to provide logistics instructions, her enthusiasm and excitement in seeing a room full of BMO blue t-shirts is evident.
She quickly gives us a tour of the organization. In the garage I immediately notice that a space that would normally be used to park a moving truck is completely filled with bagged donated clothes and articles. We then enter the general store of SSVP, which provides affordable clothing and items for people that have/earn less than $7000 per year. As we reach the third floor, I notice the warmer temperature (a third floor with no installed air ventilation system with 24 degrees outdoor temperature, you can imagine how hot it would be). Linda asks who would like to help with clothes sorting and who would like to help with general gardening/yard work. I decide to help with gardening. Linda leads us to the small roof patio with its several flower pots.
We immediately start replacing old plants with new ones and re-fertilizing the soil. Then Linda shows us a couple of old shelves that are missing the inside planks. She has the terrific idea to convert them to large plant holders. We immediately start working on refurbishing them, moving them to the parking lot, and filling them with soil and plants. We then move on to clean up three city garden trees directly in front of SSVP. Our work revitalizes the area and provides a welcoming space to all who pass by. With a bit over an hour left before our volunteering session ends, we decide to clean the parking lot. As we pick up dead leaves and garbage with rakes, brooms and shovels, people dropping off donations or picking up items encourage us for the work we are doing. We are efficient; the whole parking lot is completed in just an hour.
On my way back to BMO, I remember the lady standing on sidewalk earlier in the morning. Now that I volunteered and have a better understanding of SSVP, I think I know why she stood there in the morning. She was waiting for the SSVP general store to open. The image of the garage piled with clothes rushes through my mind again. The need is great! This is when I understand why the patio with the small garden that I helped rejuvenate was important. Volunteers use that small little garden to refresh and reenergize to continue on with their mission! Finally, the parking lot and the trees in front of the SSVP? That is to give joy and hope to those who come to SSVP. The cleaned parking and renewed garden is a symbol to those in need that help is only a step away, one hand away, one volunteer away.
My reason to volunteer is that I hope I can help even just one person directly or indirectly, regardless of language, culture or religion, in re-building their self-reliance, their dignity and their sense & belonging to community. To think of it, how fitting that BMO's purpose is "Boldly Grow the Good in Business and in Life"! The wave of blue volunteers that morning is a testament of how we united and accelerated in boldly growing the good in our communities.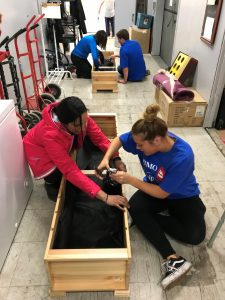 Chun Wah Eric Lee is a Senior Manager at BMO's North American Customer Contact Center in Montreal. He loves to travel and to learn about different cultures and history.