Treemonisha: A pioneering Black Opera produced and staged for the first time thanks to BMO support
BMO is proud to be a funding partner in bringing Treemonisha – A Musical Reimagining to the stage this spring during Luminato. We have a long-standing history of supporting the arts across Canada, with more than $9.2 million in funding to more than 130 arts organizations. It's part of our Purpose-driven commitment to grow the good for an inclusive society – one with zero barriers to inclusion.
Treemonisha is a celebration of firsts! This opera features the first all-Black orchestra in Canadian opera and Canadian classical music history, and the first Black woman conductor in Canadian opera history – globally acclaimed Panamanian-American Kalena Bovel. It's also the first opera from award-winning, internationally acclaimed Canadian stage director Weyni Mengesha.
In 1911, Scott Joplin created an opera that broke new ground: Treemonisha. It tells the tale of the adopted daughter of former slaves Ned and Monisha, who is found under a tree.
Treemonisha deals with conflicts in African-American culture at the end of the 19th century – including the desire to move into mainstream American society countered by the pull of old African ways and superstitions. The theme of the importance of education for both men and women is set against music that borrows elements of European opera, and merges them with the unique rhythms of ragtime.
Joplin was never able to raise the funds to produce Treemonisha. In fact, it was not fully staged until 1972. In 1976, he received a posthumous award for the Pulitzer Prize in music for this show.
Now, 47 years after its first staging, Volcano Theatre is reinventing Treemonisha.
The theatre has commissioned a new orchestration and arrangement, and an entirely new libretto that uses Joplin's characters and 1880s setting – but grafts onto them a new story that extends and updates Joplin's feminism and politics, and deepens the work's impact. This new arrangement restores Joplin's voice to its rightful place as central to a North American Black Classical canon.
"Volcano's production of Treemonisha brings to the main stage a story that we as a society need to hear today, raising awareness and increasing our social discourse," says Helen Seibel, BMO Head of Employee & Community Giving. "BMO is proud to be able to support such incredible work at this important time, bringing to the stage the first professional production of Treemonisha in Canadian history. This is part of our commitment to support programming that fosters a more inclusive society, and increases access to diverse cultural and artistic stories and experiences."
The production has assembled an international creative team that is not only first-rate, but mirrors the story itself, with Black women occupying most of the key creative leadership roles: librettist, arranger, stage director, choreographer, research and text dramaturge, costume designer – as well as the entire orchestra.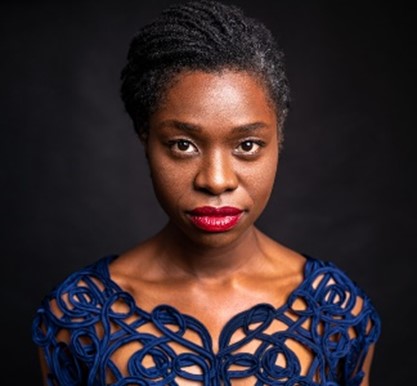 Neema Bickersteth, a Canadian soprano born and raised in Alberta to parents from Sierra Leone, sings the lead character of Treemonisha and is the Creative Producer of Moveable Beast.
"It's so special to walk into a room, and see all these shades singing strong, with passion and connection… This show is important and relevant. It feels special. It feels rare. Also, it feels like the beginning – and that's the power behind Treemonisha's story: now the people have chosen a new way – a new way forward," says Neema.
Neema is known for her skills as a singer, actor and maker of multi-disciplinary performance. She has performed operatic roles in both Canada and Europe, ranging from Mozart to Lehar to Weill, and we look forward to seeing her reimagining of the role of Treemonisha.