Peko is making healthy foods more accessible by reducing food waste
Globally, more than one third of all food is lost or wasted each year. In Canada, we waste more than 11 million metric tons of food every year — worth nearly $50 billion. Altogether, food loss and waste generate 8%-10% of all greenhouse gas emissions in the world.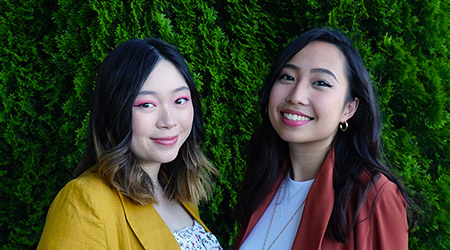 Arielle Lok and Sang Le, founders of Peko located in Vancouver, have created an innovative business model that reduces waste and enables access to affordable, healthy food by delivering what they call "mystery boxes" with surplus food items and groceries sourced from local farmers and wholesalers. Peko customers receive these items at up to 40% off grocery store prices.
Arielle and Sang were both university students advocating for food sustainability when a mutual friend introduced them over group chat. An hour into exchanging ideas, both young women knew they wanted to start a business together. It wasn't long before Arielle packed up her life and moved from Montreal to join Sang on the west coast – an essential import hub for western Canada's fresh produce.
Initial funding for Peko came through a social impact grant. The business was born, and the two entrepreneurs started going door to door on Produce Row to establish a network of suppliers. Once the business model was proven and Peko's impact became visible, other suppliers quickly jumped on board.
Since May 2021, Peko has saved over 250,000 pounds of produce from going to waste and generated over $750,000 of savings for their customers.
Arielle and Sang see the growing need for Peko and want to scale the business to meet demand. Last year, the business received a BMO Celebrating Women grant to help fund that growth. In addition to the grant funding, the recipients have access to BMO business banking advisors, key growth resources and valuable networking opportunities to further expand their business.
"One of our favourite delivery addresses is home to a large population of senior citizens, many with limited incomes and mobility issues. Residents at this building join together to purchase Peko boxes to share. This is exactly why Peko was born – to ensure more access to affordable and healthy food."
Peko also gives back to the community by donating $1 from the sale of every produce box to two local charities that share their mission – the Food Stash Foundation and Vancouver Food Runners.
Peko plans to grow its impact with the expansion of operations to Calgary, Alberta. The first boxes are expected to be delivered this spring.