New awards ceremony spotlights Black Tech Professionals
This summer, BMO will be taking its partnership with the Black Professionals in Technology Network (BPTN) to the next level through the sponsorship of BPTN's first ever awards. The "Obsidi by BPTN Awards, presented by BMO" will celebrate the contributions of leading Black professionals and Black-led organizations in North America who are making a tangible difference in the tech industry through a special awards ceremony held in Toronto on June 28.
Congratulations to our nominees and BMO winner!
The awards span 10 categories (link) and BMO nominated top talent from across Technology & Operations, Digital and Corporate Areas. We're proud to share that three of our nominees were shortlisted and one colleague won their category, Shad Uadiale!
---
"It's been quite a humbling experience being recognized for the work I do on my team. As much as I'd like to claim all the accolades, I do recognize the pivotal role senior managers and BMO's leadership have played – and continue to play – in empowering their teams to pursue and own the work they do. As such, I'm dedicating the award to them."
– Shad Uadiale
Experience Design
---
Congrats to all our nominees and the honourable mentions listed below. Are you active on LinkedIn? Join us in sending a congratulatory message today with #ProudtoWorkatBMO.
BMO winner:
Shortlisted nominees:
BMO has also sponsored two awards categories: BMO Black Community Builder of the Year and BMO Black Entrepreneur of the Year. Congratulations to the winners who bring our Purpose to life in the communities where they live and work.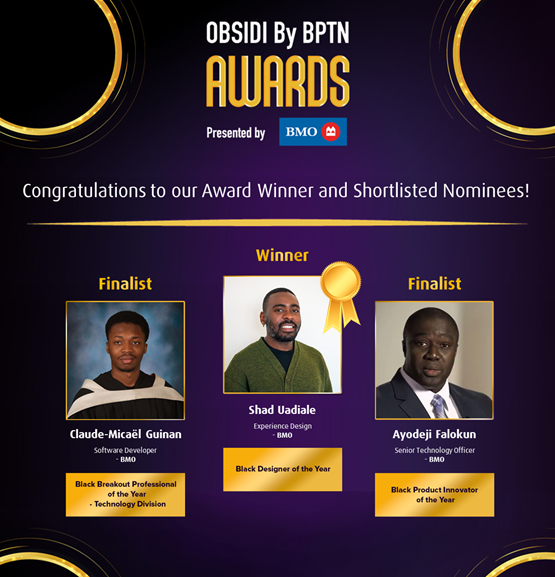 ---
"We are honoured to partner with BPTN to recognize Black professionals in technology. The best teams are diverse teams, and BMO is committed to celebrating top talent and their achievements in the industry. These awards are the first of their kind. We're thrilled to raise the bar for future generations."
– Bojan Pavlovic
CIOO North American Personal & Business Banking and Wealth Management
---