Message from Mike Bonner: Indigenous Advisory Council celebrates three years of working for progress & inclusion
Kwe', Aanii, Atelihai, Sge:no, Greetings!
It is with great pride that I ask you to join BMO in observing an important anniversary. Three years ago, BMO created the Indigenous Advisory Council (IAC), comprised of First Nations, Métis, and Inuit leaders across Canada to provide us guidance on the creation of policies, programs, and banking solutions that respond to the 92nd Call for Action of the Truth and Reconciliation Commission of Canada.
BMO was the first bank to form an external panel of Indigenous leaders to guide us. At BMO, our approach to Zero Barriers to Inclusion is always guided by listening, partnering, and working to boldly grow the good… together.
With the partnership of the IAC, we understood the essential role of listening, learning, and partnering with leaders to address the needs of Indigenous colleagues, customers, and communities to move forward on the path to Reconciliation. The IAC's insights, along with the support of other Indigenous leaders across Canada, are helping us honour our long-standing commitment to advancing partnerships with Indigenous communities. IAC members have been foundational to the development of an interconnected BMO banking strategy focused on bold outcomes in education, employment, and economic empowerment. Today, I know that our impact has been exponentially stronger in every part our bank because of the IAC.
In education in addition to millions in BMO-funded scholarships, we have partnered with First Nations University of Canada to create Nisitohtamowin a free interactive eLearning course that teaches fundamentals of Indigenous history and culture. To date, 90% of BMO colleagues in Canada completed this learning – that's more than 30,000 employees and more than 20,000 externals to the bank have also accessed this eLearning, for a total reach of more than 50,000 people having a deeper understanding of history in Canada from Indigenous perspectives.
The IAC has guided the creation of our Indigenous employment strategies that have increased new hires and improved retention. We have had an unprecedented two consecutive years of progress – with 36% growth in the total number of Indigenous employees now working at BMO – and we are on track to achieve our 2023 milestone goal of 1.5% workforce representation and aim to achieve and exceed our 2025 goal of 1.6%.
The IAC continues to guide BMO's Indigenous Banking Unit (IBU) to drive sustainable progress in partnership with Indigenous governments and organizations on an ambitious economic empowerment agenda. With the IAC's direction and guidance, we introduced a robust Indigenous supplier diversity strategy that exceeded our procurement goal of $10 million with a total of $27.9 million spent with Indigenous suppliers through 2021 and 2022 – making BMO a leader in this space. All of this supports how we do better business for Indigenous customers with the growth of BMO's Indigenous Banking which now contributes $7.2 billion to advance economic self-determination for Indigenous communities nationwide.
When we convened that first meeting of the Indigenous Advisory Council, we came together to execute on a clear and dynamic vision to drive economic self-determination, progress and inclusion for Indigenous communities. As Co-Chair of the IAC, I know I speak for all of us when I say the track record we have achieved propels us forward to be bolder as we continue to guide BMO in advancing progress on the path to Reconciliation.
I invite you to meet all the members of the IAC and learn more about our work in Wîcihitowin. Please join BMO in thanking the following members of the IAC who are retiring from the Council this month:
Former Regional Chief, Roger Augustine, Assembly of First Nations (AFN), NB/PEI Co-Chair, IAC
Chief Terrance Paul, Membertou First Nation, NS
Chief Darcy Bear, Whitecap Dakota First Nation, SK
Chief Ouray Clark Crowfoot, Siksika Nation, AB
Former Chief, Patrick Michell, Kanaka Bar Indian Bank, BC
Hereditary Chief, Frank Brown, Heiltsuk Nation, BC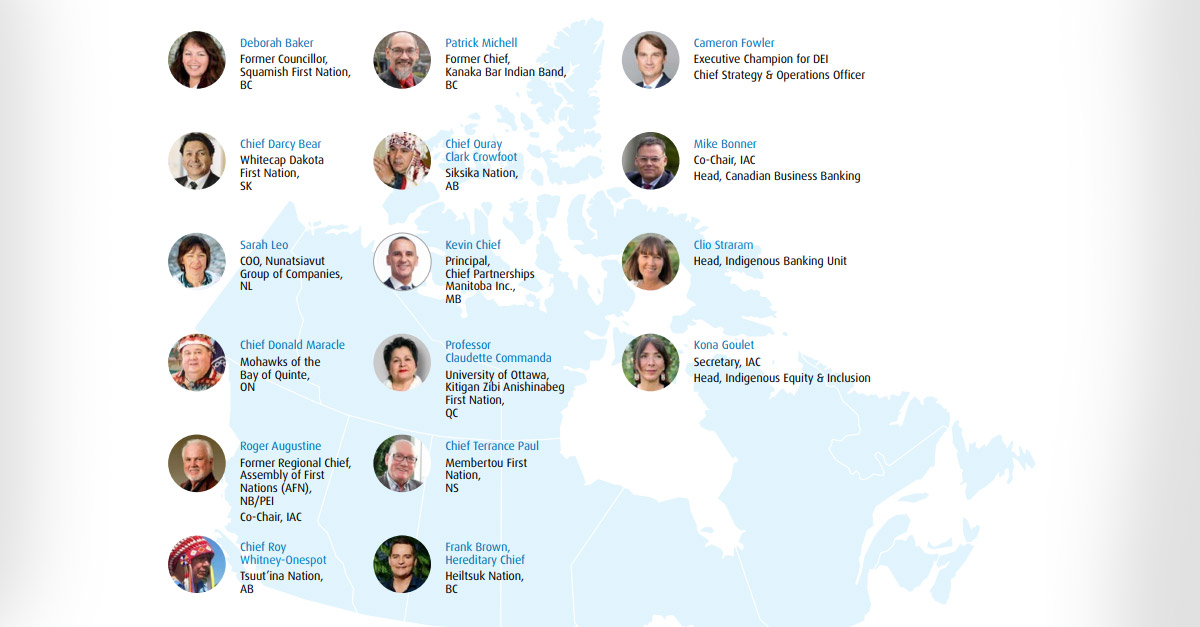 On behalf of BMO, I thank them and all the members of the IAC for their leadership, guidance, and partnership to build a more inclusive economy and society in support of a strong and prosperous Canada. As we look ahead, please watch for a welcoming announcement of BMO's new IAC members.
Michael Bonner
Head, Canadian Business Banking
Head, Enterprise Indigenous Strategy
Executive Sponsor, Sharing Circle, Employee Resource Group
Co-Chair, Indigenous Advisory Council