Dreaming big with Ruby's Bagels in Milwaukee
When Daniela Varela bit into a warm fluffy, bagel while in Cleveland, Ohio she realized she couldn't enjoy a bagel like this at home in Milwaukee. And at that moment a new business idea venture was born as she decided to learn how to make and sell bagels in 2017.
The first step was researching and experimenting with which flavours and combinations of bagels and cream cheese would be the best to focus on, finally landing on six varieties of bagels and an assortment of spreads. She uses her own 24-hour process to make her bagels full of love and care – or "spoiled and boiled" – to reflect the time, effort and boiling parts of the process.
Daniela recalls that early on, it was intimidating often being the only woman in the room – and felt she had to minimize herself even further as a young Latina woman. But instead of letting that become an even bigger obstacle, she turned it into a strength, finding support in her bankers after choosing BMO for her business accounts. "Ruby's Bagels" found a home in the Zocalo Food Truck Park in Milwaukee, with her middle name being the decided-upon moniker.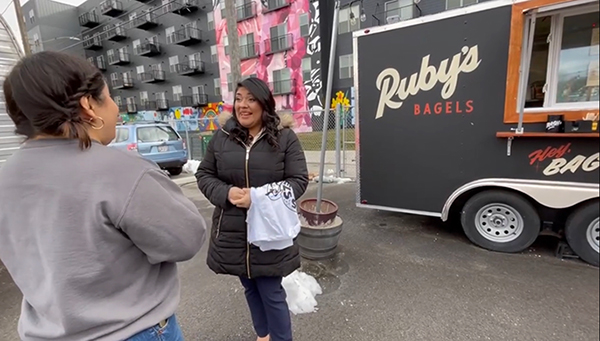 Diana Zermeno is the bank manager at a Milwaukee branch who frequently checks in with Daniela and makes sure she knows of special offers or programs that could benefit her. After several years in business operating as a food truck and wholesaler, Daniela is focused on her next goal of opening a brick-and-mortar bagel shop – a goal that Diana and BMO are helping with by making sure Daniela's finances are in order so she can make that purchase.  
Purchasing a building felt like a lofty goal after a fire destroyed the commercial kitchen Daniela had been working out of in 2022. Even after watching the kitchen space go up in flames, Daniela worked tirelessly to find another space to make bagels and provide work for her employees, many of whom are her own family members.
Daniela has so much enthusiasm for the future of her business, which is on the cusp of new growth in the form of a physical shop. Diana and BMO are working right alongside her to help her achieve these goals.