Committed to helping build an inclusive society, BMO announces $3 million donation to Thrive Scholars
According to Thrive Scholars – Los Angeles, half of the 25,000 qualified low-income students of color nationwide miss out on top colleges or college degrees. To address this – and as part of our commitment to help build an inclusive society – BMO recently announced a $3 million donation to Thrive Scholars to launch the BMO Thrive Academy – Los Angeles, a program that prepares underrepresented students of color for college and their careers.
On Saturday, October 14, Kimberley Goode, Chief Communications and Social Impact Officer, BMO shared the donation announcement at the Los Angeles Business & Financial Empowerment Summit, presented by the Los Angeles Mayor's Office at BMO Stadium. Joining Kimberley onstage was Thomas Chang, Executive Director, Thrive Scholars Los Angeles.
Eric Smith, U.S. Vice Chair sat down for a fireside chat with Los Angeles Mayor Karen Bass and actress, entrepreneur and CEO of Pattern Beauty LLC Tracee Ellis Ross to discuss their insights on the economy and future opportunities for businesses. We also participated in several panel discussions on topics covering current market conditions, attaining access to capital, and inclusive growth strategies for mid-market minority-owned companies and small businesses.  
For the past 20 years, Thrive Scholars has been a national college-to-career accelerator dedicated to supporting high-achieving, diverse students from economically disadvantaged backgrounds. The organization currently supports almost 1,000 students and an alumni network of over 1,500 Scholars, with 85% identifying as first-generation college students.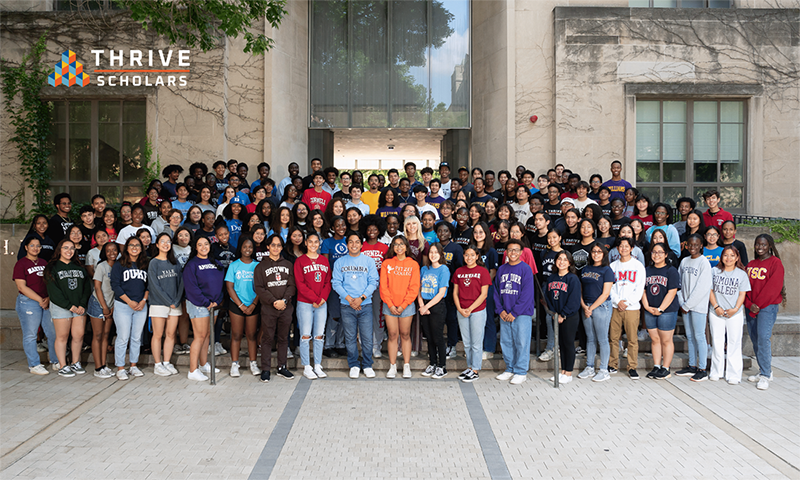 ---
"Our support of the new BMO Thrive Academy – Los Angeles aligns with our Purpose, to Boldly Grow the Good in business and life, and exemplifies our commitment to making progress for the communities we serve. At BMO, we are proud to support initiatives that help create positive change and eliminate barriers to access in communities across Los Angeles. We are excited to see what the young people who participate in BMO Thrive Academy – Los Angeles are going to achieve."
– Kimberley Goode
Chief Communications and Social Impact Officer, BMO
---
BMO Thrive Academy – Los Angeles students start with Summer Academy, an academically intensive program that runs over two summers in the 11th and 12th grade. Scholars attend daily three-hour calculus and college writing courses taught by college professors on a college campus for six weeks each summer. And once they're in college, participants can access Thrive Scholars' career development program, which includes transformative internship and job opportunities.
BMO's support of Thrive Scholars also enables the organization to continue its Diverse Talent Initiative, recruiting and developing students at under-resourced schools so that they are prepared to excel academically at top colleges. Additionally, BMO will partner with the organization on its Career Pathways curriculum, building customized programs, company-specific training and tailored student skill-building exercises.
BMO is proud to continue promoting education and career opportunities in underserved minority communities. This donation embodies our efforts to drive progress by advancing an inclusive economic recovery in the United States –and it's part of our more than $40 billion commitment over the next five years to address key barriers faced by minority businesses, communities and families.