BMO survey results show reliance on digital banking continues to rise in Canada
BMO recently announced the results of our 2023 Digital Banking Survey, highlighting North Americans' reliance on, and attitudes toward, the digital banking capabilities available to them. The survey, conducted in Canada and the U.S. in partnership with Pollara, found that reliance on digital banking is continuing to rise in North America.
Here are the topline finds followed by a list of digital capabilities that can help consumers make real financial progress.
The majority (81 per cent) of Canadians are using digital banking tools for all or most of their banking, and nearly half (46 per cent) believe their use of digital banking will continue to increase within the next year.
As more Canadians move their banking transactions online, over half (58 per cent) find financial literacy to be an important aspect of online banking – and two-thirds (65 per cent) want access to personalized advice.
Only a third (31 per cent) of Canadians could live less than a day without digital banking – ranking it as important as a car (32 per cent) and air conditioning (31 per cent), and more important than having a dishwasher (14 per cent).
Canadians value all the benefits and conveniences of digital banking. Features that enable them to track and manage their finances, including monitoring credit scores (67 per cent) and budgeting and tracking (57 per cent), are particularly valuable.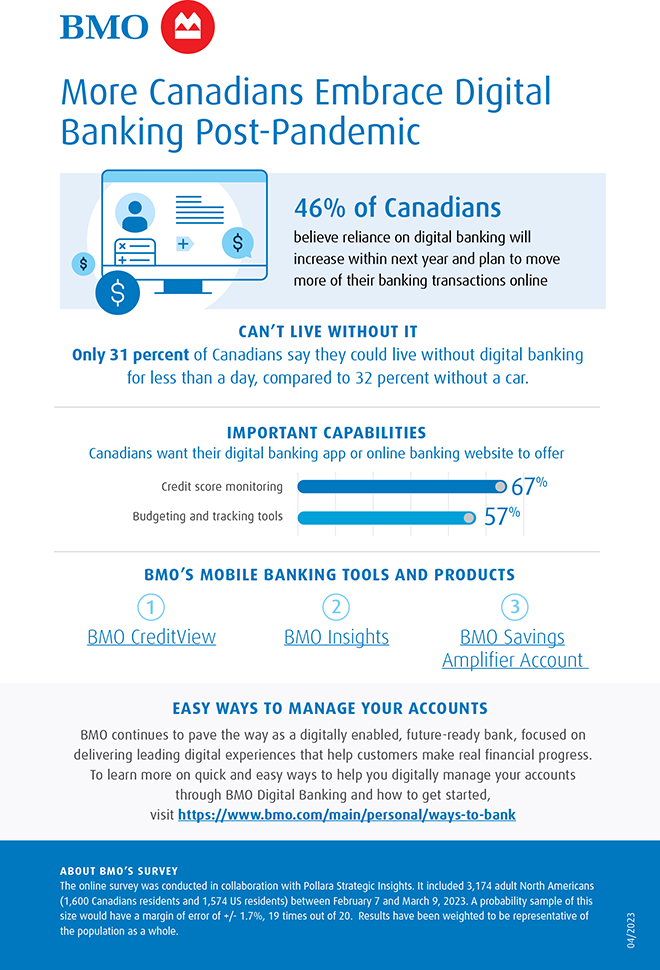 BMO's Digital Banking Capabilities
We've got innovative digital banking features that can help customers make real financial progress:
BMO Insights: 25 BMO Insights are available to provide customers free, quick and personalized pictures of their daily spending to help them make good spending decisions, save more, monitor account values and spot unusual activity.
BMO Savings Amplifier Account: To help make savings easy and automatic, BMO's Savings Amplifier Account offers no monthly fees, a competitive interest rate and unlimited no-fee transfers to other BMO accounts. Its digital Savings Goals feature enables customers to set, track and manage their financial goals.
BMO CreditView: Customers can quickly and easily check their credit scores and access new tools and advice to help manage their credit profile, online and on mobile.
To read more about the findings of BMO's Digital Banking Survey, check out the press release.