BMO supports tree planting projects to promote urban greening in underserved California communities
Today, in alignment with BMO's commitment to a sustainable future, we announced a $225,000 donation to One Tree Planted to aid in urban planting projects that increase tree canopy in under-resourced communities in California. With our donation, foresters will dedicate time to improving vegetation planning and resource management, helping relieve heat pressure and improve the quality of air urban dwellers breathe.
---
"BMO is proud to play a part in recovering greenspace and improving community health through tree planting. This commitment will help provide a better quality of life in the communities we serve. Aligned with our Purpose, to Boldly Grow the Good in business and life, BMO's partnership with One Tree Planted reinforces our commitment to making progress for a sustainable future."
– Kimberley Goode
Chief Communications and Social Impact Officer, BMO
---
One Tree Planted is a national organization focused on global reforestation to create habitats for biodiversity and make a positive social impact around the world. Their urban planting projects produce ecological benefits including habitat rehabilitation, erosion control, air pollution reduction and carbon dioxide sequestration. Tree planting also aids in the conservation of rainfall water, improves soil health by reducing stormwater runoff and enhances community health by supplying shade in neighborhoods overlooked during previous tree placement.
Along with the donation, BMO employees and One Tree Planted partners will host two volunteer planting events, one in Inglewood in Los Angeles County on April 27 and the other in San Francisco on July 29, with the goal of planting 50 trees throughout both communities. In total, 32,000 individuals in 18 under-resourced neighborhoods will benefit from the tree planting projects.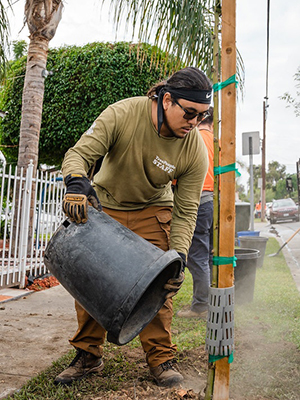 Inglewood Project:
In conjunction with the City of Inglewood, BMO's donation will help expand on an existing initiative to plant 700 new trees throughout the community, which includes 100 street trees and 600 residential fruit trees. 3,000 individuals in five neighborhoods will enjoy the benefits of the trees planted.
San Francisco project:
As a lead sponsor for the San Francisco Bay Area project, BMO's donation will help One Tree Planted plant fruit and community trees throughout the Little Hollywood neighborhood. With a focus on replacing dead trees and stumps with new trees, 330 trees will be planted in 2023 with an additional 170 trees planned for 2024. Nearly 30,000 individuals in 13 under-resourced neighborhoods will benefit from the project.
Earlier this year, BMO supported One Tree Planted's reforestation project by planting 9,400 trees:, one tree for each Bank of the West employee that joined BMO after the acquisition. This announcement also follows on BMO's third annual Trees from Trades program on April 19 which resulted in 125,000 new trees for a total of 375,000 – enough fill BMO Stadium more than 271 times. In addition, from February 7 to March 31, BMO donated $1 for each qualifying transaction made by BMO Digital Banking users.