BMO Real Financial Progress Index – Holiday Edition
The Real Financial Progress Index is a survey conducted in Canada and the United States in partnership with Ipsos. It's an indicator of how consumers feel about their personal finances and whether they are making financial progress. Below are the topline findings about consumers in each country, followed by tips for consumers to maintain and gain financial momentum.
From October 7 to 29, adults 18+ in Canada and the U.S. were surveyed and here's what was uncovered about holiday spending and savings habits.
Over 30 per cent of both Americans and Canadians report they plan to spend less on the holidays this year – although Americans are seven per cent more likely to increase spending this year
Nearly 20 per cent of American men are planning to spend more this holiday season, compared to 11 per cent of Canadian men. In both countries, men are more likely to increase spending than women
A quarter of Millennial Americans plan to spend more on the holidays, compared to 12 per cent of Canadian Millennials
Among Canadians, Gen Z's are the most likely (63 per cent) to save specifically for holiday spending, while those over the age of 65 are the least likely (41 per cent)
Almost half (47 per cent) of Gen Z Canadians are saving more for the holidays and this demographic is also most likely to be spending more this year (18 per cent)
37 per cent of American women plan to spend less this holiday season than previous years, and only 13 per cent said they'd be spending more
Check out the graphic below for additional findings.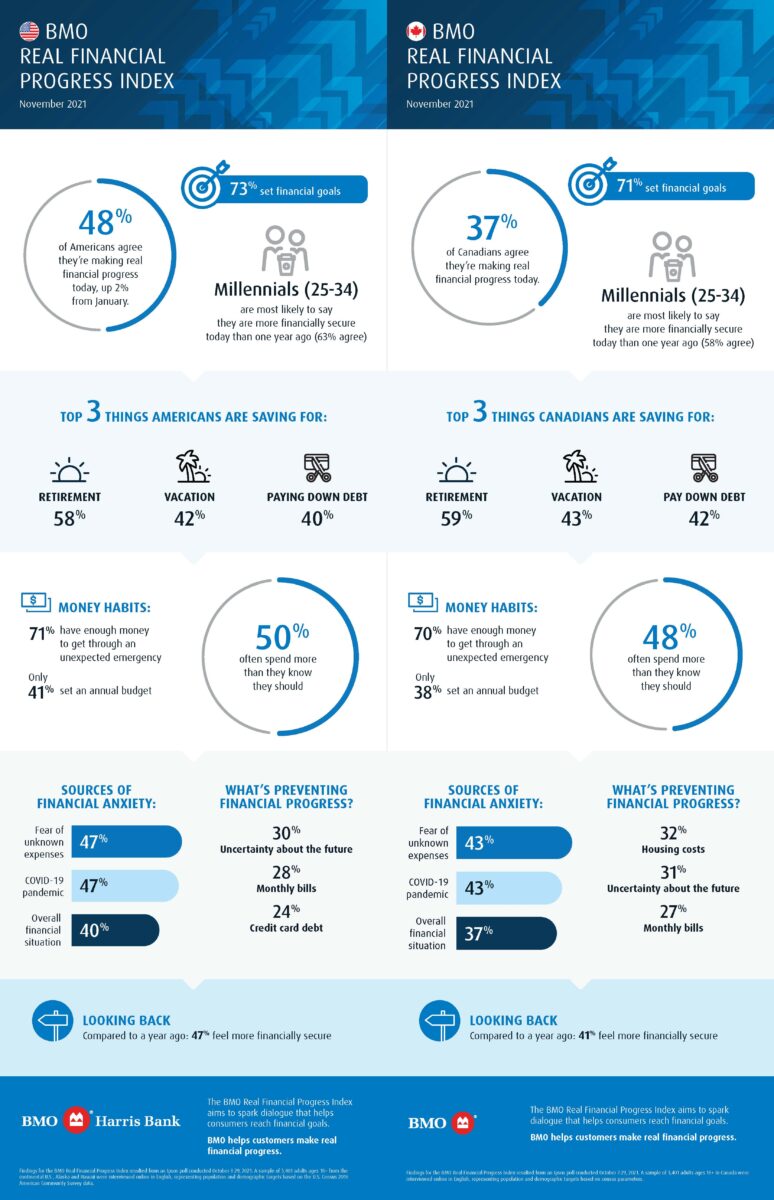 To read the full story of how consumers are feeling about their financial progress, check out BMO's press release for Canada and the U.S.
Tips for maintaining financial progress
Talk about money with trusted individuals – friends, family, a banker or financial advisor. A banker can suggest programs and tools that are not well known based on an individual's unique goals and financial situation.
Be specific when setting financial goals (such as saving for retirement, paying off debt, building an emergency fund or starting an investment portfolio). Check in on your progress at least quarterly throughout the year and adjust if needed.
Take advantage of your bank's money management and digital banking tools, lending programs and educational resources.
To find out how BMO can help customers make financial progress, visit: https://www.bmo.com/main/personal