Taking Steps to Alleviate Poverty at the World Partnership Walk
To make a meaningful impact in alleviating poverty on a global scale, 40,000 people in ten cities across Canada participated in the World Partnership Walk on June 9, 2019. An initiative of the Aga Khan Foundation Canada (AKFC), the Walk raises money and serves to enhance awareness, build knowledge and inspire people to take action.
Seven BMO teams across seven cities joined these efforts, collectively raising over $40,000. Nadim Hirji, Head, Canadian Commercial Banking, who secured this year's BMO sponsorship of the Walk in Toronto, said, "We're ensuring that we do our part to help build strong communities, and to improve quality of life to help combat poverty locally and around the world. For this reason, BMO is proud to have supported The World Partnership Walk through a national sponsorship for over seven years."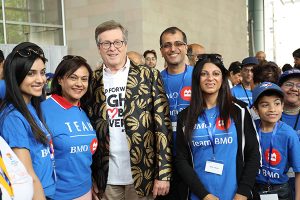 The World Partnership Walk is Canada's largest public movement to fight global poverty. In its 35 years of existence, the Walk has raised $100 million that has gone directly to supporting AKFC's development programs in Africa and Asia. This year, in addition to the money raised by our teams, BMO provided a corporate donation of $25,000.
Anar Samji, RVP Financial Planning, who was instrumental in BMO's involvement with the Walk this year, said, "BMO is a proud sponsor. Our involvement reinforces our connections to our community, and our goal to fight global poverty and energize future change."
 BMO has been involved in the Walk since 2006, when Anaar Dhanji, currently Director of Technology and Operations Communications, and Yasmin Meralli, previously VP of Diversity and Workplace, built bridges between BMO and the Walk. Over the past three years Karim Shivji, Senior Network Planner at BMO, led the walk to where it is today – a stellar year of record registration numbers and fund contributions. 
 Around the world, millions of people fall short of what they could possibly achieve because of lack of opportunities, conflict, poverty, displacement and other challenges. These challenges require effective and crucial investment in sustainable solutions. Thanks to supporters like BMO, we are stronger in the fight against global poverty, and steps can be taken to build resilient communities around the world, empowering them towards a brighter future.