Summer blog: Have we reached a climate tipping point?
Last month Bloomberg announced that the US has reached a tipping point for mass adoption of electric vehicles (EVs). According to their analysis, this tipping point is 5% of sales, after which early adopters are overtaken by mainstream demand. Bloomberg reaches this conclusion from observing the S-shaped adoption curve for other successful technologies – from mobile phones to LED lightbulbs – and noting the same pattern in countries that have already moved past the 5% adoption for EVs. Signs of acceleration continue with new incentives for EVs in the US Inflation Reduction Act, passed in the US Senate last week, which among other incentives includes a US$7,500 tax credit for each new car.
This is good news in the face of record-breaking wildfires triggered by historic heatwaves like those we saw last summer globally, and the record-breaking 40°C + temperatures the UK is experiencing now. But, the Intergovernmental Panel on Climate Change (IPCC) has a tipping point of its own, defined as "a level of change in system properties beyond which a system reorganizes, often abruptly, and does not return to the initial state even if the drivers of the change are abated." In other words, climate change becomes irreversible and each change leads to cascading effects. Recent analysis suggests that this tipping point could be reached between 1°C and 2°C of warming above pre-industrial levels.
The term "tipping point" was coined in 1962 by sociology professor Everett Rogers, who hypothesized a "distinct timeline of acceptance for every successful innovation". Unlike Bloomberg's EV tipping point, Rogers proposed a 15% to 18% adoption rate, after which market share becomes mainstream. Merriam-Webster defines it as "the critical point in a situation, process, or system beyond which a significant and often unstoppable effect or change takes place."
Are we reaching tipping points in all the climate solutions required to achieve net zero? Not yet, according to the International Energy Agency's (IEA) Net Zero by 2050 Roadmap, the analysis of which demonstrates that much more needs to be done. Although heat pumps to electrify building heating, a key emission abatement solution, grew to almost 180 million in 2020, installations must reach 600 million by 2030 to be on the path to net zero by 2050. Similarly, sales of battery-electric and fuel cell truck fleets, another tipping point indicator at almost 10% of the global on-road vehicle stock today, must increase to 50% of the overall truck market by 2030 to be on a net-zero trajectory.
While the IEA's Net Zero Emissions scenario does not account for actions to reduce GHG emissions from agriculture, forestry, and other land use (AFOLU), these activities combined are the second largest source of emissions after energy. IEA estimates a further GHG reduction of more than one gigaton carbon dioxide equivalent (CO2e) in 2050 by, for example, reducing demand for livestock products in households with the highest levels of per capita consumption. Whether we've hit a tipping point in plant-based protein is uncertain. According to the 2021 U.S. retail market insights, plant-based milk accounted for 16% of the total US milk market, while plant-based meat still lags at 1.4% of total US meat sales.
The level of urgency in reaching commercial transition tipping points depends on the race against climatic ones and, according to UN Secretary-General Antonio Guterres, "climate tipping points lie alarmingly close". Research from the Columbia Climate School identifies different climatic tipping points, along with the potential interactions between them. The School cites scientific research speculating that the Greenland ice sheet, which could raise sea levels by over 20 feet, would go into irreversible disintegration at a temperature range between 0.8°C and 3.2°C of warming above pre-industrial levels. The resulting influx of fresh water into the world's oceans will in turn destabilize global ocean currents. As these currents regulate climate, destabilization will accelerate warming, thereby creating a feedback loop.
Monitoring for both physical and transition tipping points is critical to the ongoing evaluation of shifting pathways to net zero, better preparing us for informed and timely investment decisions.
About Susan McGeachie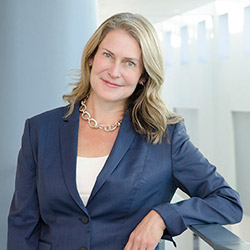 Susan McGeachie is head of the BMO Climate Institute, a centre of expertise that bridges climate policy and science with business strategy and finance to unlock solutions for both clients and the bank. She brings to this role over 20 years of experience identifying, evaluating, and managing climate change-related risks and strategic positioning opportunities. Following her years in ESG research and analytics, she held leadership positions in management and engineering consulting firms. Susan is an adjunct professor at the University of Toronto where she teaches a graduate course in climate finance, and a member of the Canadian Climate Governance Experts panel. In 2021 Susan was named one of twenty-six Canadian Climate Champions by the Canada Climate Law Initiative and the British High Commission ahead of COP26. In 2014 she was named to the Clean50 and Clean 16 lists of practitioners, which recognize contributions to advancing sustainable capitalism.