Leveraging Carbon Markets to Accelerate Climate Solutions
When BMO pre-purchased 1,000 tonnes of carbon removal units late last year, it was more than just a step toward achieving our carbon neutrality ambition: it also represented an important commitment to support the growth of a global carbon capture industry.
Revenues from carbon credits for removal units utilizing Carbon Engineering's Direct Air Capture (DAC) technology will help accelerate deployment scale. These types of climate solutions will become our building blocks to accelerate construction of the low carbon economy.
Challenges in designing a credible and transparent market aside, carbon trading at its most basic is a mechanism for reallocating capital from those companies that emit carbon to those that remove it. It provides an economic incentive to harness energy from the sun and wind, preserve forests where they would have otherwise been destroyed, and plant off-season crops that restore nutrients to soil and limit erosion.
Carbon capture technology can help us achieve ambitious Paris-aligned 1.5C goals and net negative GHG emissions, but it needs early adopters to reach scale, and mass market penetration won't be easy while the price of removals exceeds the price of emissions. By directing capital into the DAC industry, customers can help drive down technological costs to eventually realize an economically viable solution to removing GHG emissions from our atmosphere.
The path to net zero is paved with an evolving mix of reductions and both geoengineered and nature-based removals. Carbon trading is a key driver of demand for these solutions, alongside other economic incentives, ambitious carbon pricing, regulations, and consumer education and awareness.
Issues around the transparency and integrity of carbon credits are a real concern. A verification process must assure buyers that units represent real and measurable tonnes of carbon reduced or removed. Any claimed societal benefits must be clearly defined and independently assured. And offset prices must be commensurate with national strategies to achieve global science-based reduction targets.
At the same time, we need all the tools available to us to advance the low-carbon economy. We still have a long way to go. Despite the technological maturity and policy certainty supporting the acceleration of zero emission vehicles (ZEVs), market penetration is less than a quarter in Europe and a mere 5% in the U.S. Natural gas remains the primary source of energy for space and water heating, even in regions with clean electricity grids. And, if everyone were to electrify their cars and homes tomorrow, we'd run out of electricity because currently there is not enough clean energy supply.
Much of the discussion lately has been focused on the end game of a carbon-free economy, but we still need to build it. A functioning, credible carbon market can help.
In November last year the Task Force for Scaling the Voluntary Carbon Market launched an Integrity Council to ensure the integrity of the voluntary carbon market. The Council's objectives over this year are to develop a Core Carbon Principle (CCP) threshold standard for what constitutes a high integrity credit, with governance oversight, and a market infrastructure that promotes data and price transparency, funding availability and ease of access.
The outcomes of this work, along with the design of norms and accountability mechanisms for corporate use of carbon credits, will help scale a system for advancing climate solutions. Let's use it.
About Susan McGeachie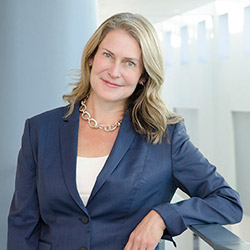 Susan McGeachie is head of the BMO Climate Institute, a centre of excellence that bridges climate policy and science with business strategy and finance to unlock solutions for both clients and the bank. She brings to this role over 20 years of experience identifying, evaluating and managing climate change-related risks and strategic positioning opportunities. Following her years in ESG research and analytics, she held leadership positions in management and engineering consulting firms. Susan is an adjunct professor at the University of Toronto where she teaches a graduate course in climate finance, and a member of the Canadian Climate Governance Experts panel. Susan was recently named one of twenty-six Canadian Climate Champions by the Canada Climate Law Initiative and the British High Commission ahead of COP26. In 2014 she was named to the Clean50 and Clean 16 lists of practitioners, which recognize contributions to advancing sustainable capitalism.