Buzzing with biodiversity: Building a sustainable future with BMO's Pollinator Program
Did you know that pollinators are responsible for generating one-third of the food we put on our tables? However, the global population of butterflies, honeybees, bumble bees and other pollinators is in rapid decline due to widespread use of pesticides in industrial agriculture, infectious diseases, loss of habitat and climate change. As part of our Purpose-driven commitment to double the good for a sustainable future, it's essential that we help protect them.
Introducing BMO's Pollinator Program
BMO has partnered with Alvéole, an urban beekeeping company, to install eight beehives at select branches across Canada and the U.S. These beehives have resulted in the adoption of 400,000 honeybees, which will aid in the pollination of 120-200 million flowers, shrubs, and trees in surrounding communities, improve resiliency, yield and pollination of crops, flowers and local habitat.
---
"The partnership with Alvéole is a great example of how BMO's Purpose comes to life. When we flip the script and consider our real estate footprint as a vehicle to advance positive environmental impacts, this makes way for innovative solutions on a larger scale. A strong connection to nature in the built environment goes hand in hand with the need to decarbonize and evolve towards a circular economy. We are excited to grow this program and engage with our communities in supporting biodiversity,"
– Mae Shaban, Senior Manager, Global Retail Design and Sustainability Office, Corporate Real Estate
---
Engaging with our communities for a sustainable future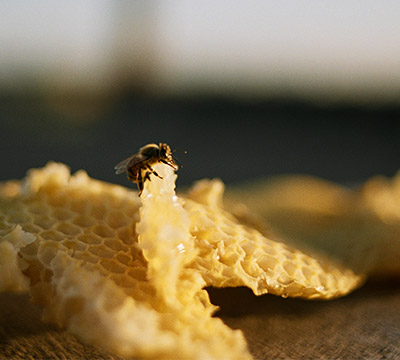 Each participating BMO branch has a designated beekeeper who conducts health and safety inspections of the hive every three weeks. In late fall, the beekeepers harvest and jar the honey from all eight beehives. Each hive yields 100, five-ounce jars of unpasteurized honey that is unique to the area's local flora, which are then shared with BMO customers and local community members.
Throughout the program, each branch conducted two in-person workshops for customers, employees, and the community to learn about the important role of pollinators. Beyond these workshops, anyone who is interested can learn more about their local hive through the MyHive links below.
| | |
| --- | --- |
| MyHive links by branch | Hive address |
| Evergreen Park | 9950 S Kedzie Ave, Evergreen Park, IL |
| Glen Ellyn | 405 Pennsylvania Ave, Glen Ellyn, IL, |
| South Barrington | 40 S Barrington Rd, S. Barrington, IL |
| Dundas & Tomken | 985 Dundas St E, Mississauga, ON |
| Alliston | 2 Victoria St. W., Alliston, ON |
| Erin Mills | 2825 Eglinton Ave. W, Mississauga, ON |
| Ottawa & Strasburg | 795 Ottawa St. S., Kitchener, ON |
| Clair & Gordon | 3 Clair Rd E, Guelph, ON |
---
"Whether it was through the interactive workshops, following the hive's progress online or sharing in the sweet perks like the honey from the local hive, BMO's Pollinator Program provided participating branches impactful opportunities to engage with their customers, foster connections with their communities, as well as inspire change for a sustainable future,"
– Katherine Smith, Channels Strategy Manager, North American Personal and Business Banking
---
Fostering sustainable connections
As we continue to find new ways to reduce our environmental impact and footprint, opportunities like the Pollinator Program that lead to increased engagement with our communities are particularly valuable and bring visibility to BMO's sustainability efforts. This program was made possible by strong partnership and collaboration efforts between Corporate Real Estate, North American Physical Channels, Branch Experience Marketing, and the Corporate Sustainability Office. What better way to demonstrate how BMO integrates environmental considerations into every aspect of our business than bringing thousands of honeybees under our wing?