BMO and Rush University System for Health join forces to make healthcare more equitable
In Chicago, a baby born today in Chicago's Loop is likely to live to 82. But travel west along the Blue Line and life expectancy drops below 70. To address this harsh reality, BMO is announcing a $10 million donation to create the new Rush BMO Institute for Health Equity to ensure zero barriers to inclusion for communities across Chicago.
With a mission to eliminate health inequities and help people live longer and healthier lives, the Rush BMO Institute for Health Equity will leverage Rush's strengths in patient care, research and education; operational and philanthropic investment; and community partnerships to strengthen the health and vitality of the neighborhoods Rush serves.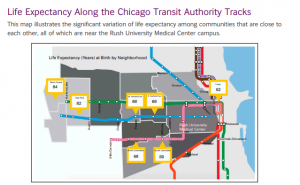 "To truly have an inclusive society with health and economic opportunities for all, we need to remove barriers to health and that's exactly what the Rush BMO Institute for Health Equity will do," said Dave Casper, U.S. CEO, BMO Financial Group. "At BMO, our purpose is to boldly grow the good in business and life, and we know that by partnering with Rush, we'll be able to help reduce health care disparities in Chicago, with the potential to create a roadmap for health equity nationwide."
The Institute will have four key areas of focus:
Education and workforce development, with a specific focus on educating health experts and building career opportunities for community members
Community clinical practice, with a focus on innovative, community-based care to help improve outcomes in vulnerable communities
Community engagement, with a primary focus on sustained partnerships to address social determinants of health
Health equity research, creating innovative solutions through community-informed participatory research
"The Rush BMO Institute for Health Equity, our most concentrated investment in health equity yet, will allow us to organize and coordinate strategies for eliminating health inequities under a single umbrella," said Dr. Omar Lateef, CEO and president, Rush University System for Health. "We thank BMO for their incredible generosity, and we look forward to a long and impactful partnership together."
Because of their recognition of the injustice of growing gaps in health disparities, Rush University System for Health has become one of the first academic health systems to make health equity a strategic priority. At BMO, we are proud to help Rush grow the good with the establishment of this new Institute.