Blog #3: Tracking Resilience on the Road to Net Zero
When Canada's prime minister Justin Trudeau addressed the COP26 UNFCC assembly, calling on the world to do "more, and faster" to stop global warming, he spoke of Lytton, the Canadian town that burned to the ground in June after temperatures hit historic highs of 49.6 degrees Celsius. He didn't know then that another Canadian climate disaster, in the same province of British Columbia, was just 12 days away, when a once-in-500-year flood would break away mountainsides, wash out highways and bridges, and force the evacuation of 15,000 residents.
Canada is warming twice as fast, on average, as the rest of the world, and the north is warming three times faster. But the entire world is being affected. In January of this year, Australia recorded its warmest day ever at 50C and 2020 was Europe's hottest year on record. According to the World Meteorological Organization, the incidence of weather-related disasters has risen five-fold over the past 50 years.
These events stress the critical importance of a global net-zero strategy, and of practical, implementable national action plans to achieve them. Equally vital, though, is the need to understand the physical impacts of climate change, and to build resilience into where and how we work and live. Because patterns of the past are no longer indicative of the future, managing risks associated with climate change presents a significant challenge.
The British army has an adage for proper planning and preparation to prevent poor performance. Planning for the expected change in weather patterns associated with climate change is an imperative. That's why the BMO Climate Institute developed and is honing a tool to understand the physical impacts of climate change on our own assets and those of our clients. This tool, developed in collaboration with the innovative technology developers at Climate Engine, combines high-resolution geo-spatial data and leading scientific modeling to generate location-specific information that can help decision-makers evaluate and protect physical infrastructure against weather-related risks to their operations.
As the frequency of severe weather events becomes increasingly relevant to business continuity, understanding our exposure is a first, critical step toward managing risk and creating a more resilient business. Floods, for example, one of the costliest risks, can be assessed by combining high-resolution digital elevation models of the earth's surface with location-specific precipitation data to a resolution of up to 30 meters. This not only provides location risk, but also assesses how vulnerable its infrastructure is to this risk based on the site's topography. Similarly, the tool can evaluate a portfolio of sites across a company's supply chain to determine exposure to extreme weather events such as floods, wildfires, and high winds associated with hurricanes and tornadoes. Such granular data on these risks helps companies prioritize their investments in adaptation.
As we look toward COP27 in Egypt at the end of this year, the UNFCCC is already warning that more must be done, calling for climate action plans that are more ambitious than those we've issued previously. While Parties have agreed to at least double their financial contribution for adaptation strategies in developing countries, the UNFCCC says the level of financing proposed may not be enough. Making up for this shortfall, therefore, must come in part by developing the kinds of tools that allow us to not only assess physical climate risk, but provide the insight needed for a robust adaptation investment plan.
About Susan McGeachie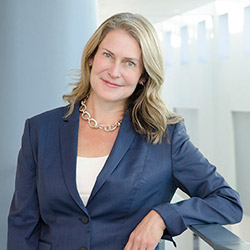 Susan McGeachie is head of the BMO Climate Institute, a centre of excellence that bridges climate policy and science with business strategy and finance to unlock solutions for both clients and the bank. She brings to this role over 20 years of experience identifying, evaluating, and managing climate change-related risks and strategic positioning opportunities. Following her years in ESG research and analytics, she held leadership positions in management and engineering consulting firms. Susan is an adjunct professor at the University of Toronto where she teaches a graduate course in climate finance, and a member of the Canadian Climate Governance Experts panel. In 2021 Susan was named one of twenty-six Canadian Climate Champions by the Canada Climate Law Initiative and the British High Commission ahead of COP26. In 2014 she was named to the Clean50 and Clean 16 lists of practitioners, which recognize contributions to advancing sustainable capitalism.