Blog 12-part series: The Road to COP27
In the run up to Glasgow, COP26 was billed as the most important UN Climate Change Conference since the Paris Agreement, and our last chance as a global community to devise a plan to slow global warming and avert disaster.
There was for some an air of disappointment when representatives from nearly 200 countries departed the two weeks of talks amid complaints that some commitments had been watered down, while others were still inconclusive at the 11th hour.
I, however, am optimistic.
As we embark on a new year, I believe that COP26 achieved a monumental shift in the climate change narrative, from one of aspirations and ideas, to one of action and practical solutions.
In Glasgow, 197 countries agreed on a rule book to achieve the aspirations first set out in Paris. Importantly, the Glasgow Climate Pact enables Parties to update their commitments within the five-year Agreement windows to account for rapidly evolving climate science as new and more reliable information emerges. The world has committed to moving forward on a net zero trajectory and plans are turning into actions. Any nation or entity not on the same trajectory will be left behind, whether in their domestic or global market.
In fact, action has already begun.
John Kerry's First Movers Coalition at COP26, the public-private partnership between the US State Department and the World Economic Forum, will be an important driver of change. The Coalition seeks to leverage the collective purchasing power of leading companies to drive the application of zero- and low-emission technologies. This initiative will facilitate commitments to accelerate the transition to net zero. For example, the COP26 declaration on accelerating the transition to 100% zero emission cars and vans commits Canada and other leading nations to working towards all sales of zero emission new cars and vans by no later than 2035. To support this and other commitments, Canada is establishing a suite of incentives to advance both market-ready and emerging clean technologies, including expanded investment tax credits for renewable energy, battery storage and critical mineral exploration.
I'll drill down further in a subsequent post on the challenges of investing in these innovations and the role of banks, but what's immediately clear is that there is an urgent need to scale solutions that are already commercially viable.
Electrifying large segments of the economy is going to put pressure on innovations to create the level of clean energy supply required. Canada has set a goal to achieve 100 per cent net-zero electricity systems by 2035. Industry is already responding. The Electrifying Canada initiative, which BMO is supporting, launched last month. This initiative is an important step toward the decarbonization of the Canadian economy to advance what studies indicate is the cheapest and most efficient way to reduce GHG emissions. Electrifying Canada is working to identify the key actions needed to support Canada's electrification strategy along the road to net zero.
Over this next year, the US and Canada are expected to prioritize access to economic opportunities for communities that have been historically excluded, and strategies to ensure that those who rely on transitioning industries are not left behind.
Both countries emerged from COP26 with clear commitments toward which they must now develop and implement policies. A suite of measures was announced in last month's Deputy Prime Minister and Minister of Finance Mandate Letter, including a directive to consult with financial experts, including the Sustainable Finance Action Council, to develop a net-zero capital allocation strategy to "accelerate Canada's transition to a prosperous net-zero future". Another notable inclusion is advancing mandatory disclosure of climate-related financial information and net zero plans for all federally regulated institutions, which covers financial institutions and institutional investors.
Effective design of these policies can create enablers for banks to achieve our own net zero ambitions. We're expecting to see a steady stream of increasingly aligned net zero programs and initiatives announced by governments from around the world in coming months.
Pressure to achieve commitments made in and leading up to Glasgow, and scrutiny over progress, will accelerate over this next year leading into COP27. Action is key.

About Susan McGeachie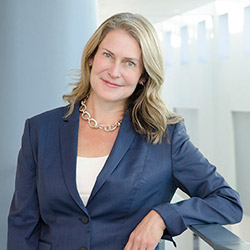 Susan McGeachie is head of the BMO Climate Institute, a virtual hub to convene a strategically planned system of technical expertise, enabling policies, incentives, and investment to advance decarbonization and climate resilience for BMO's clients and the bank. She brings to this role over 20 years of experience identifying, evaluating and managing climate change-related risks and strategic positioning opportunities. Following her years in ESG research and analytics, she held leadership positions in management and engineering consulting firms. Susan is an adjunct professor at the University of Toronto where she teaches a graduate course in climate finance, and a member of the Canadian Climate Governance Experts panel.
Susan was recently named one of twenty-six Canadian Climate Champions by the Canada Climate Law Initiative and the British High Commission ahead of COP26. In 2014 she was named to the Clean50 and Clean 16 lists of practitioners, which recognize contributions to advancing sustainable capitalism.