Advancing economic reconciliation in the low carbon transition
Canada's second annual National Day for Truth and Reconciliation comes at a time of resolute reflection on the extent to which the effects of intersectional challenges, long discussed but often ignored, are impacting our lives. We are faced with the urgency of accelerating decarbonization solutions to avoid the worst effects of climate change, while at the same time investing in resilience to protect communities from impacts now believed to be unavoidable.
Such investment is particularly pressing for vulnerable communities, many of which are likely to be disproportionately affected by climate change, as the destruction left in the wake of Hurricane Fiona illustrates. Initial estimates indicate that insured losses from the storm will be within the $300 to $700 million range for the industry. Uninsured losses, however, can be three to four times this rate, with the cost borne by the public sector and, according to a newly released report, ultimately manifest to individuals through taxes, impacted property values, higher insurance premiums, out of pocket expenses, and the cost associated with lost investment opportunities.
Adding to these financing concerns is the issue of affordability for Canadians, exacerbated by our current economic climate. But, efforts to tackle these issues also create an opportunity to address the socio-economic marginalization of vulnerable communities, including many of our First Nations.
Strategies to finance Canada's net-zero ambition should incorporate Indigenous economic development objectives, as the U.S. seeks to do through its Justice40 initiative. There have been several ground-breaking solutions announced this month that demonstrate its potential. Hydro One just launched a 50-50 equity model with First Nations on new large-scale transmission line projects. Enbridge also just announced the sale of a minority stake in several of its pipelines to a group of 23 First Nation and Métis communities. Access to capital for the consortium was backed by a loan guarantee from the Alberta Indigenous Opportunities Corp., which enabled the communities to borrow funds rather than having to contribute their own capital.
On a more local level, BMO's Indigenous Banking Unit is creating solutions for access to home ownership and affordable housing for Indigenous communities across the country. In addition to our On-Reserve Home Loan Program, which lends directly to the individual, we also finance First Nations governments to build multiple homes at a time.
In Part 2 of a two podcast series helping to mark National Day of Truth and Reconciliation, Chris Henderson, the Executive Director of Indigenous Clean Energy, outlines the key success factors for building Indigenous capacity to enable communities to become equity and operational partners in renewable energy projects. Chris notes, however, that despite the plethora of existing and future successful renewable energy projects, there is still a financing gap to address the deplorable state of poor energy use, inefficiency, and cost in Indigenous homes and facilities across the country. According Chris, energy efficiency housing is the biggest single clean energy opportunity of the future, and therefore also the largest economic and climate change opportunity.
Banks, along with other federally regulated institutions, are off tomorrow to take the opportunity to pause and reflect on our country's legacy of colonization and discrimination, and our role in creating a thriving economy by supporting equal access to economic opportunities in the transition to a net-zero world.
About Susan McGeachie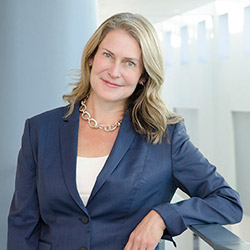 Susan McGeachie is head of the BMO Climate Institute, a centre of expertise that bridges climate policy and science with business strategy and finance to unlock solutions for both clients and the bank. She brings to this role over 20 years of experience identifying, evaluating, and managing climate change-related risks and strategic positioning opportunities. Following her years in ESG research and analytics, she held leadership positions in management and engineering consulting firms. Susan is an adjunct professor at the University of Toronto where she teaches a graduate course in climate finance, and a member of the Canadian Climate Governance Experts panel. In 2021 Susan was named one of twenty-six Canadian Climate Champions by the Canada Climate Law Initiative and the British High Commission ahead of COP26. In 2014 she was named to the Clean50 and Clean 16 lists of practitioners, which recognize contributions to advancing sustainable capitalism.